Knee Massager with Heat and Kneading for Pain Relief
This knee massager combines a variety of practical functions, Joint pain relief, arthritis and injury recovery designed for intensive therapy.
| | | |
| --- | --- | --- |
| Long-term standing | Long-term Air conditioning | Knee injury |
IS THE WORLD A GRIND BECAUSE OF YOUR KNEE PAIN?
This could be the most significant page you read if you've tried different treatments for knee pain and are still having problems.
It's likely that you've tried everything to manage your pain, including stretching, icing your knees, dangerous medicines, expensive physical therapy, and maybe invasive and risky surgery.
Sadly, none of the "solutions" have delivered the anticipated outcomes. You're left feeling frustrated and that you have no other choices.
You start blaming yourself. Your disposition deteriorates, and your loved ones start to notice genuine hopelessness in your eyes. However, I must say that you are not at fault!
These typical remedies focus on the symptoms of knee issues and may even momentarily numb the pain. However, long-term harm outweighs benefits. You are in the right place if you need a treatment that addresses the underlying source of knee discomfort.
HOW DOES THE DEVICE WORK?
Soft massage airbags fully wrap around your knee, providing a massaging effect on sore and tired joints.
At the same time, the red-light therapy targets damaged joints, and helps to reduce inflammation on ligaments and tendons within the knee. 
The fully adjustable heat therapy promotes nutrient rich blood-flow to the knee joint, helping to lubricate the knee while triggering the body's self-healing mechanism. 
This breakthrough combination results in instant relief from knee pain, osteoarthritis and joint issues. 
With consistent use, damage is reversed, providing long-lasting relief from knee pain.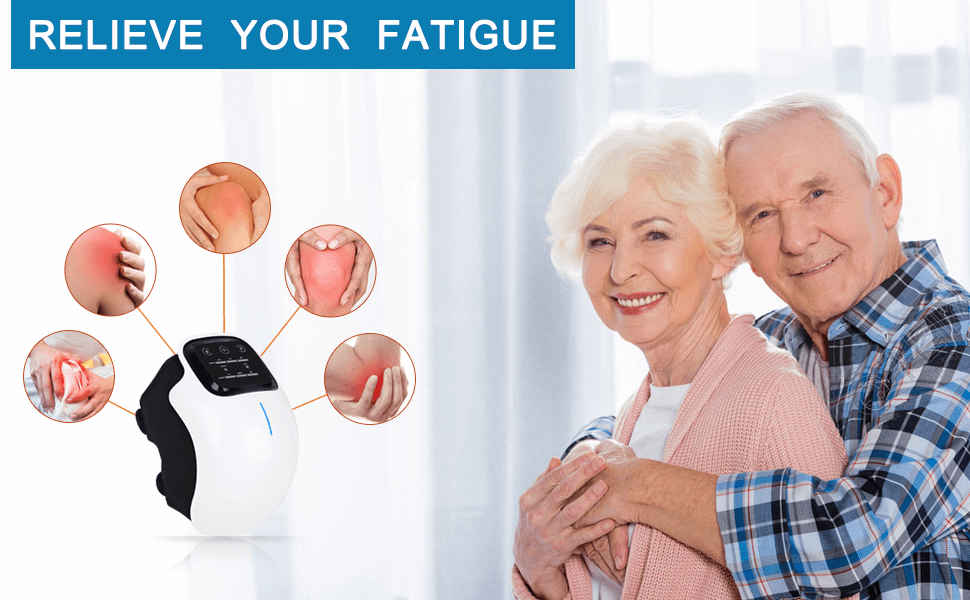 Specifications
Input voltage: 5VDC/2A(USB)
Rated voltage: 5V
Power: 10W
Working voltage: 3.7V
Lithium battery: 3600mAh
Far-infrared lamp beads: 16
Packing size: 27.6*11*19.5cm
Band size: 30cm*12cm*14cm
Body length: 24cm